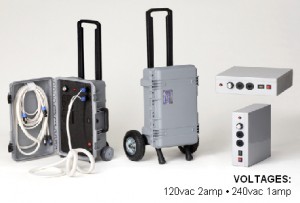 Mag­na­Pulse devices are the indus­try stan­dard PEMF ther­a­py devices. They are a suc­ces­sor to the Papi­mi device and uti­lize true Pulsed Elec­tro­mag­net­ic Fields. There are dif­fer­ent types of PEMF Devices.

See our dis­cus­sion of Pulsed ver­sus Res­o­nant devices here in our arti­cle Hum­mers vs Ringers. In this arti­cle we describe both the tech­no­log­i­cal dif­fer­ences in these devices, as well as try to pro­vide rea­son­able guid­ance for the use of each.
Mag­na­Pulse PEMF, is a rev­o­lu­tion­ary device that deliv­ers imme­di­ate relief and accel­er­ates heal­ing. They are pow­er­ful and use a plas­ma dis­charge cham­ber. See Plas­ma Dis­charge Devices.
Mag­na­Pulse PEMF is sim­ple and safe to oper­ate; at just 25 pounds very portable.